the precautions for installation of hydraulic components
Author:SAIVS
Time:2022-08-23
Click:
---
Hydraulic System also needs certain attention in installation. From the point of view of the whole hydraulic system, there are several aspects such as installation of hydraulic components, installation of hydraulic pump, installation of Hydraulic Cylinders and installation of oil pipes. Authors will explain them one by one according to the data and experience they have investigated:

In order to keep the hydraulic equipment in good working condition, it is necessary to be familiar with the debugging method and using requirements of the equipment. In order to correctly maintain and troubleshoot the equipment, we also need to know how to install the components in the equipment.
Precautions for installation of hydraulic components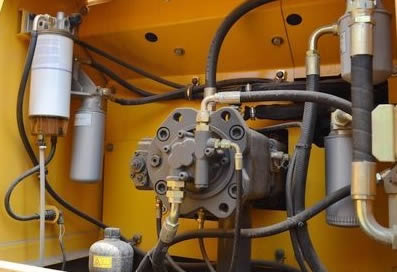 (1) Kerosene should be used to clean the hydraulic components before installation. Sealing and pressure test should be carried out on the self-made important components. The test shall be carried out in stages and the test pressure shall be checked once per litre.
(2) Do not mismatch similar-shaped components such as relief, relief and sequence valves. The pressure regulating spring should be relaxed completely during assembly and tightened gradually when debugging.
(3) The axis of the directional control valve shall be installed horizontally.
(4) Elements with sealing rings at inlet and outlet oil ports shall be inspected for conformity of sealing rings before installation. Before installation, the sealing ring should protrude from the installation plane to ensure a certain amount of compression and prevent leakage after installation.
(5) When installing plate element, each fixing screw should be tightened gradually in a certain order so that the installation plane of the element can contact the floor plane of the element well.
Precautions for installation of hydraulic pump
(1) Drive shaft of hydraulic pump and motor should have good coaxiality, and its deviation should be less than 0.1mm. Generally, flexible connection is used and V-belt is not allowed to drive pump shaft directly.
(2) The inlet and outlet ports shall not be reversed.
(3) Hydraulic pump with steering requirement, steering can not be mistaken.
(4) Suction height should be appropriate.
(5) The joint between oil port and oil pipe should be well sealed.
3. Installation of Hydraulic Cylinder
(1) The base of the hydraulic cylinder should be rigid enough to avoid deformation of the cylinder barrel and bending of the piston rod when pressurized.
(2) Before installation, check whether the sealing elements and buffer devices of the hydraulic cylinder are properly configured.
(3) The upper and side bus bars of the outer circle used in the process of the hydraulic cylinder must have a good parallelism with the guide surface of the engine base.
(4) Vertically mounted cylinders shall be equipped with mechanical counterweights and spring forces of back Pressure Valves for balance.
(5) One end of the long-stroke cylinder is fixed and the other is moving to adapt to the expansion caused by temperature changes.