What You Should Understand Regarding Hydraulic Vane Pumps
Author:SAIVS
Time:2023-11-21
Click:
---
I. Working Principle of Hydraulic Vane Pumps
Hydraulic vane pumps operate based on a simple yet effective principle. They consist of a housing with an eccentrically
mounted rotor containing vanes. As the rotor rotates, centrifugal force pushes the vanes against the housing wall,
creating chambers of varying volume. The chambers draw in fluid from the inlet and then discharge it through the
outlet as the vanes move along the housing wall. This continuous process enables the pump to generate fluid flow and pressure.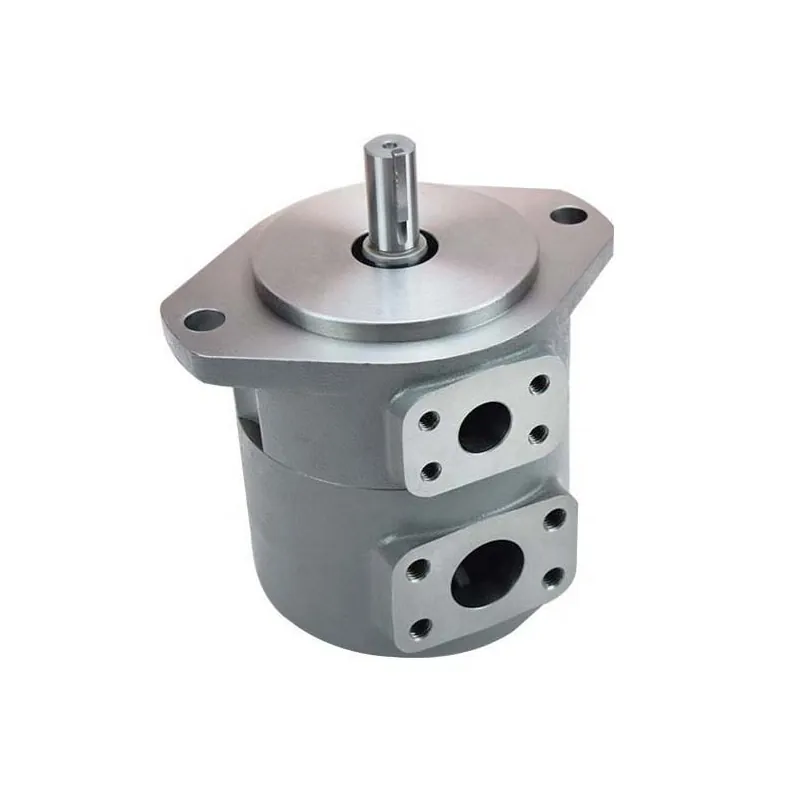 II. Advantages and Disadvantages of Hydraulic Vane Pumps
Advantages of Hydraulic Vane Pumps
1. Versatility
One of the key advantages of hydraulic Vane Pumps is their versatility in handling a wide range of low to medium viscosity fluids.
They can effectively move various types of fluids, including alcohols, solvents, refrigeration fluids, aqueous solutions,
aerosols, fuels, and lubricants. This versatility makes them suitable for use in diverse industries.
2. Maintenance
Hydraulic vane pumps require relatively easy maintenance. The internal system of these pumps is well-lubricated with fluid,
minimizing metal-to-metal contact. The components that are most prone to wear and tear are the vanes,
which are inexpensive and easy to replace. Regular maintenance, such as lubricant replacement and vane inspection,
can help ensure optimal performance and extend the lifespan of the pump.
3. Low Noise Level
In many industries, excessive noise in the workplace can be a safety concern. Hydraulic vane pumps,
when running smoothly, operate quietly. By utilizing these pumps in manufacturing facilities,
the noise level can be kept low or at least not contribute significantly to the overall noise level,
creating a more comfortable working environment.
4. Reliability
When properly constructed and maintained, hydraulic vane pumps are highly reliable equipment.
With proper care and maintenance, they have the potential to last for a long time, even a lifetime.
It is important to be vigilant and identify any signs of potential issues to address
them promptly and ensure the continued reliability of the pump.
Disadvantages of Hydraulic Vane Pumps:Dirty Fluid
Dirty fluid is a major cause of hydraulic vane pump system failures, either directly or as a contributing factor.
Regardless of the quality of construction or the tightness of seals, running fluid with abrasive contaminants
through the pump can lead to wear and damage to the vanes, rotor, and cam.
To address this issue, it is crucial to install and maintain contamination control devices to ensure clean fluid.
Simply relying on the assumption that newly purchased fluid is clean is not sufficient.
Implementing a filtration system is essential to remove contaminants and maintain fluid cleanliness.
Additionally, conducting quality control checks is important. Even new fluid can have impurities if mishandled by the
distributor or manufacturer. Before introducing the fluid into your system, it should be filtered and undergo a purity check.
III. Application Fields of Hydraulic Vane Pumps
Hydraulic vane pumps find extensive use in various industries and applications, including:
1. Industrial Machinery: They are employed in Hydraulic Systems for machine tools, injection molding machines, and presses.
2. Mobile Equipment: Hydraulic vane pumps are used in construction machinery, agricultural equipment,
and material handling vehicles.
3. Automotive Industry: They play a critical role in power steering systems, automatic transmissions, and brake systems.
4. Aerospace and Aviation: Hydraulic vane pumps are utilized in aircraft hydraulic
systems for landing gears, flap control, and flight control surfaces.
IV. Maintenance of Hydraulic Vane Pumps
Regular maintenance is essential for maximizing the lifespan and performance of hydraulic vane pumps.
Key maintenance tasks include:
1. Lubrication
Ensure proper lubrication of the pump, checking oil levels and quality regularly.
2. Vane Inspection and Replacement
Monitor the condition of the vanes and replace them when signs of wear or damage are observed.
3. Contamination Control
Implement effective filtration systems to remove contaminants from the fluid and prevent damage to the pump.
4. System Inspection
Regularly inspect the entire hydraulic system for leaks, pressure fluctuations,
and other issues that may impact the pump's performance.
SAIVS Hydraulics Will Serve Your Vane Pump Needs
At SAIVS, we have professional hydraulic technical specialists who can assist in repairing various Hydraulic pumps.
If you need help, please contact us immediately!